MidSouth Termite & Pest Control, Inc
The Best Pest Control Company in Columbia, SC!
Are you dealing with a pest problem in Columbia, SC? Get the instant relief you need and long-term protection you deserve! To get started, request a quote online.
Our Pest Control Services
100% Satisfaction Guaranteed
Here at MidSouth Termite & Pest Control, Inc, we do our best to show up on time, treat your home with respect, and get rid of your pest or rodent problem right the first time around. So in the unlikely event you're not satisfied with your most recent service, simply give us a call. We'll come back and retreat your home at no additional cost to you, we 100% guarantee it!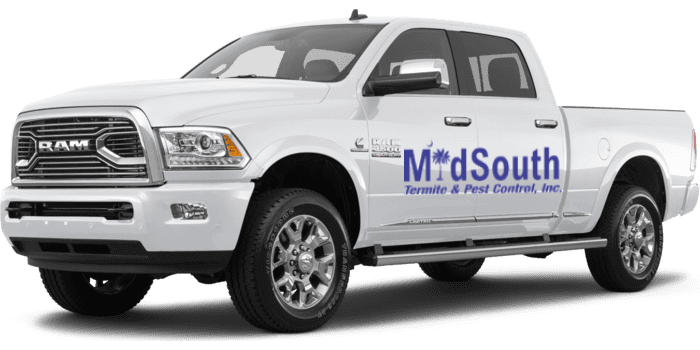 What Our Customers Have To Say
★★★★★
"I called for some information in possibly switching my termite control. Bob Lewis took the time to discuss with me cost and frequently asked questions. He was extremely pleasant on the phone. Although the pricing is only a few dollars more than what I currently pay, I was impressed with the fact that he wasn't trying to "make a sale" and truly put the best interest of the customer first. I HIGHLY RECOMMEND this company and Bob Lewis!"
- Collin W. in Columbia, SC
★★★★★
"Mid south pest control is professionally owned and managed and I am happy to use them to service my home! Bob, Joanie, Mike and all staff are fantastic. I found them through work as my employer uses their services and because I was so impressed, I have them service my home and will continue to. The chemicals are pet safe, I have 3, and have proved tried and true to keep crawlers away. I recommend."
- Heather A. in Columbia, SC
★★★★★
"We've used MidSouth for almost three years, and they are outstanding. Friendly, responsive, and most of all - thorough. They will do all they can do to get to the root of a pest problem - and then solve it. We've been so impressed and blessedly relieved (the roaches and mice are gone!) Thank you, Jennifer, Kyle, Bob, and all the folks at MidSouth."
- Langston M. in Columbia, SC
Our Pest & Rodent Control Coupons
10% Off Your First Pest Control Treatment
First time doing business with MidSouth? Get 10% OFF your first pest control treatment!
$50 OFF Termite Treatment With Warranty!
Mention how you found us and save $50 on your termite treatment with a warranty.
$25 OFF When You Refer A Friend Or Family!
Refer a friend or family & get $25 OFF OFF your next pest or mosquito service!